Deja vu. 2018 was no less busy than 2017. So, my blog is for the whole year again. Again the events here are over and above the normal workload of consultancy work, course development and the delivery of training courses in the UK.
January 6th 2018
Our first grandchild, a boy, is born to our eldest son. Much celebration and jubilation. New territory for our son and daughter-in-law and back to changing nappies for my wife and me. Maybe not just yet, but soon, when we get to babysit on our own.
January 2018
1st meeting of newly re-convened meeting of the IICRC UK Council – chaired by Dave Wheadon, CEO of NCCA. Many thanks to Dave who was not expecting to be asked to chair the meeting. IICRC Global dissolved the UK council several years earlier but have accepted that we can reconvene. Thi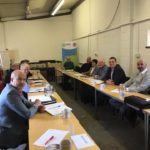 IICRC UK council meeting
January/February 2018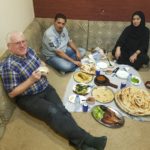 My friend Omar Al Hadrani of Smart Solutions in Dubai had some work for me, again. I was invited to speak to a select audience of restoration contractors and engineers for a 3-day suite of seminars on Fire Damage Restoration, Water Damage and Mould Remediation. As previously, Omar and his wife Amal took great care of me while I was out there. The perfect host again. A special thank you to Zara Khan who did all the running around and organising me and my role in the seminars.
Omar and his lovely wife Amar – taking me out for a traditional meal in a traditional setting – wonderful.
February 2018
When I first started my cleaning business in 1993, Servicemaster was a company with a reputation and quality standards I wanted to match. After 25 years in the cleaning and restoration industry, I found myself delivering a class at Servicemaster HQ in Leicester on behalf of The WoolSafe Organisation. It was a carpet repair class but it was a major feather in my cap even if nobody else sees it. 25 years ago, I would never have imagined it. How did I get here? (This seems to be turning into a personal diary).
March 2018
Tough month. My wife and I had little choice but to place her mother in a care home. As with all these things it was complicated and heartbreaking. We console ourselves in that it was her idea and she is actually happy there. It is a wonderful home with wonderful staff. My mother-in-law is lucky. We are lucky.
March 2018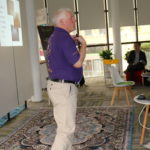 Another wonderful assignment!! Shanghai, China!! Another international trip negotiated by The WoolSafe Organisation which was offered to me. The trip started with a visit to Domotex, probably the largest textiles exhibition/conference/show in the world. The next 5 days were spent delivering an intensive course on advanced carpet cleaning, stain removal, colour repair and carpet repair to begin the process of starting up a WoolSafe approved network of cleaners in China.
April 2018
My wife and I attended a gala dinner celebrating the 50th Anniversary of the National Carpet Cleaners Association. Even though I have retired from carpet cleaning while I focus on biohazard in general, I still retain my membership. TRA UK Limited is a corporate member of the NCCA. You can't be a regular member unless you have a business engaged in carpet or upholstery cleaning.
April 2018
I had the chance of attending a Fine Fibre Cleaning Course presented by Paul Pearce and sponsored by WoolSafe Organisation and Jacaranda Carpets. This was an advanced course.
April 2018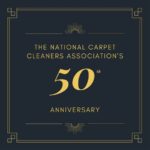 Attended the NCCA's 5oth anniversary gala dinner, in Stafford over the weekend of 21st and 22nd April.
A good night out.
June 2018
The Polish Academy of Certification in Facilities Management (PACFM), of whom I am also a member, invited me to speak at their annual conference in Lodź. PACFM has plans to introduce IICRC certification to Poland.
June 2018
My second training class this year where I am a student. It does not happen often anymore. It was a textile repair class with Julie Roberts of Modular Training Solutions, sponsored by The WoolSafe Organisation again. I have known Julie for many years and have attended her training courses and seminars many years ago. Julie is my candidate for approval by IICRC for Carpet Colour Repair instructor in the UK. If she gets through the admissions requirements, I will be very pleased, especially as her classes will be through my IICRC Approved school, at least initially.
July
2nd IICRC UK meeting. Moving ahead.
July 2018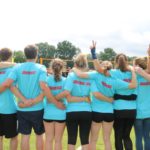 As the previous year. Entered the family into the Whitfield volleyball tournament. We didn't do so well in our division as last year. I tore a quad in the first match and my sister-in-law sprained her ankle. We were both out of the tournament. Luckily we had the numbers to continue with the competition but it was just not the same. Had fun though.
August 2018
I don't often get teaching assignments in August but we ran a Faster to Master suite of IICRC certification course (5 days in a row of intensive study and hands-on activity) and I got two back to back mould remediation classes from another client. Nice to have the work but my plans to continue my writing of some training manuals slipped again.
November 2018
November was a big month and the start of a new life. For personal family reasons, we finally moved out of London and settled in our new home in North Somerset. We now live near our eldest son and our grandchild and near my parents who are elderly and need help. It meant moving the company, again. While the business is now based in North Somerset, we have decided to maintain a presence in Amersham, Buckinghamshire, where we started our cleaning and restoration company in 1993. London was a temporary stop while we looked after my wife's mother in her own home, and rented our home in Amersham to enable us to do so. Hopefully, we do not need to move again.
November 2018
No sooner had we moved than my parents discovered a significant long-standing escape of water. The next 4 months was a battle to get their insurance company to move them out into temporary accomodation to get the property remediated properly. I guess it helped that I know a thing or two about water damage, mould being a hazard to human health and the right things to say to an insurance company and their duty of care. See my blog next year for the conclusion to this story.
Nothing to report for December except that it was different than the previous year. We were in our new home. Oh, and I finally got a library built, just in time for Christmas. I never had a library before. Shelves, yes. Library, no. Credit goes to Dave Bull, carpenter extraordinaire who designed and built it just the way he knew how I wanted it. Thanks, Dave.