January 2019
Alicja and I just love Arizona. We didn't go last year as we were expecting our first grandchild and thought it best to hang around and not go away in case we were needed. This year we waited for his first birthday to be over and we were gone. 3rd trip to Arizona in 4 years. Probably last time. Need to go somewhere different next time. Maybe a summer holiday next time rather than winter sun.
February 2019
The situation with my parents home having been water damaged is being resolved. I got them into the same care home as my wife's mother. A hotel was out of the question for them as my father is too frail and my mother has dimentia. They would not have coped. My brother and I could not take them in as we are still both working and my parents needed assistance throughout the day. After 4 weeks, and before their house was ready for re-occupancy, my father decided he wanted to stay in the care home. My mother agreed. Now my brother and I have instructions to sell their home. No peace for the wicked.
April 2019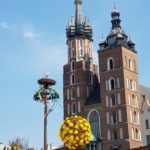 Alicja's birthday. A trip to Kraków and Zakopane, Poland, is what she wanted and that is what she got. She also got a surprise party when we got home. Just nearest and dearest but effective and fun.
May 2019
From a professional perspective, nothing unusual in the way of teaching assignments so far but now I am off to Poland to deliver the first ever IICRC class there. It was the IICRC WRT class (Water damage Restoration Technician's class). Because I am fluent in Polish, the course was delivered in Polish. PACFM and Athena sponsored the event and covered the cost of translating the course manual. All students passed the exam. The exam was officially in English but they were given a translation alongside the official English text. Most worked from both!!
While in Poland, PACFM (Polish Academy for Certification in Facilities Management) had organized me to deliver a lecture to postgraduates at Lodz University who were doing a Facilities Management course developed by PACFM with the University. It was a single unit of a more involved course. The subject I was asked to deliver was on the IICRC and the standards used in the UK and USA in the cleaning and restoration of industry. This was my first university lecture. Another feather in my cap. I have been advised that they would like me to return.
June and September 2019.
Weddings. First my nephew (and godson) in June and then my youngest son in September. Happy days. Only our daughter to marry off now.
September 2019
Trip to Forbo to see how Flotex (electrostatically flocked carpet) is made. Overdue visit.
October 2019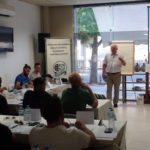 The WoolSafe representative in Greece, Dennis Paraskevopolous of  Cleaning and Protection Technologies (CPT, Athens) organised two courses for me to come over and deliver. IICRC UFT (Upholstery and Fabric Cleaning Technician Course) and The WoolSafe Organisations, WoolSafe Fibre Care Specialist (FCS)  – 3 days teaching in all. Once in Athens, Dennis introduced me to Vicky, a childhood friend and his translator for this venture. Vicky has got to be the most thorough and capable international translator I am ever likely to meet. She translates to international conference level in 3 languages, English, French and, of course, Greek. The class had 22 students for the first 2 days and about 19 students the last day for the WoolSafe course.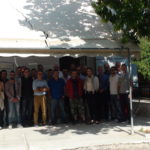 We had a translation booth, sound engineers, headsets for all the students and "all the works" as the expression goes. I have taught abroad before and have worked with translators in Israel and China and in Poland, but this was full-on. No pressure. Anyway, each evening we went out to a restaurant, had a few drinks and had some laughs. I even had enough time to go into the city of Athens and have a look around before I had to fly home. Dennis was a splendid host and very generous with his time and hospitality. Vicky was just Vicky, thorough, efficient and very forgiving of me and my style of teaching. Thank you Dennis.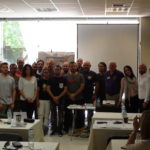 Not as much to write about this year as the last two years but too busy to update this blog when I wanted to.